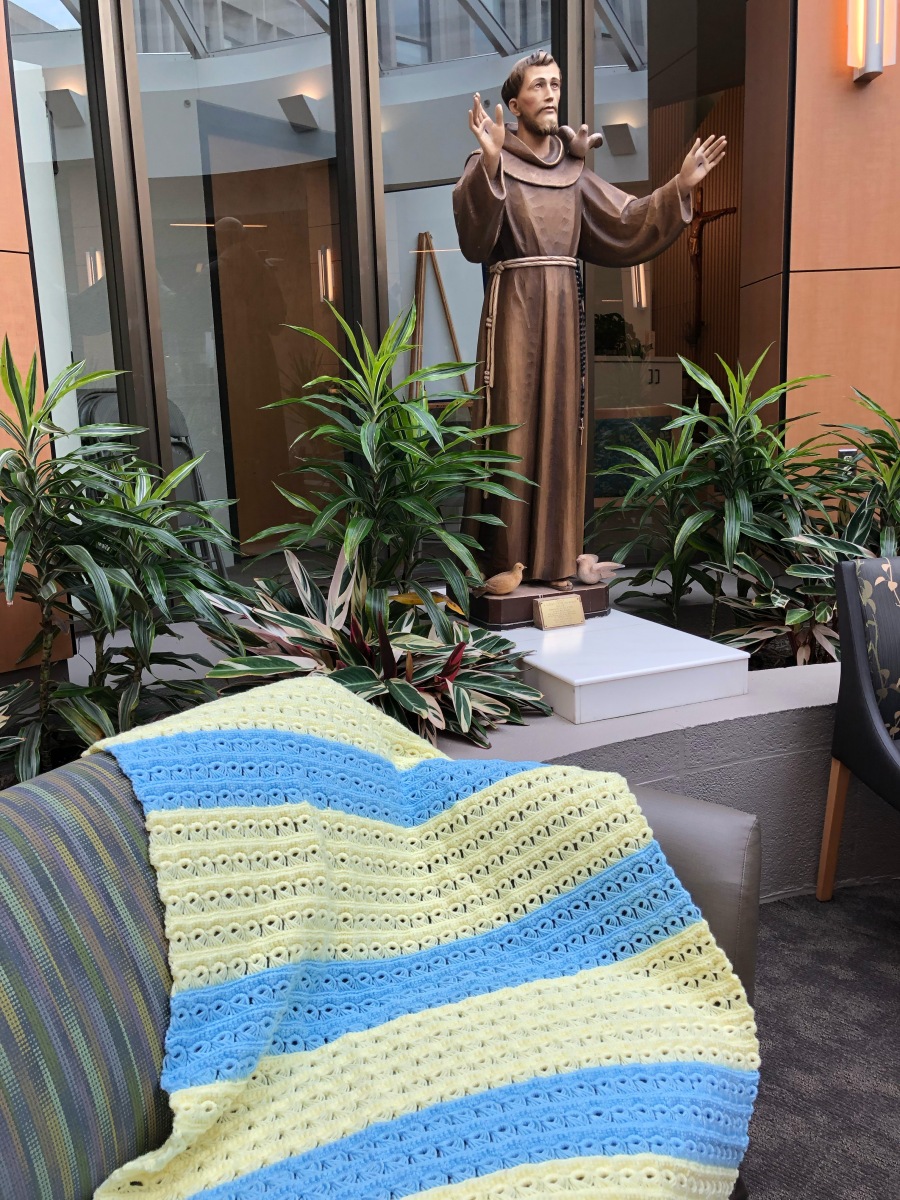 Sister Marie Barbara was the Intensive Care Unit (ICU) Chaplain at St. Mary and is a member of the Order of St. Francis. Her patients were very ill and sometimes close to death. As avery talented crafter, creating unique afghans into which she intentionally wove compassionate prayers, she was uniquely positioned to create and occasionally give her afghans to the patients with her blessings and expressions of comfort. 
She said, "Weaving in those prayers, blessings, and love holds special significance when I make an afghan, but I usually give them anonymously. Occasionally, I knew the patient and their family. Then the gift became personal, and telling them I made it was appropriate."
Sister Barbara was taught to crochet by one of the sisters in her order. This nun tried to teach Sister Barbara how to hold the hook, but she wasn't getting it. After being shown another way to control the crochet hook, she succeeded.
When her mother was being treated for cancer, Sister Barbara taught her mom what she had learned. It became a meaningful way for the two to bond during a difficult time. Her mother was determined to make each of her children an afghan, and she achieved her goal.
"The afghan my mother made for me was a ripple stitch pattern in shades of blue, green, and yellow. I still have it in my room. When I wrap it around myself, I can still feel her tenderness. These blankets last forever."
When Sister Barbara learned of the Healing Environments Program starting at St. Maryin 2008, she felt that giving patients a hand-crafted afghan was a unique way for her to touch the lives of the seriously ill patients admitted to the ICU. When she spread a blanket over the patient,and those in the room gathered around the bed as she read the blessing card, the words "cradled in hope and wrapped in love" took on special significance.
It touched her deeply to present afghans to the patients and their families. "Despite all they were going through, they were overwhelmingly joyful," she said. She also liked to tell the patients and families about the crafters who crocheted, knit, or sewed beautiful, one-of-a-kind items. Although the crafters didn't know the patients personally, they carefully made each item lovingly by hand, knowing it would be given to someone in need of their special message of caring and comfort.
"Their thoughts are with you, and they want you to know you and your loved one are not forgotten." With tears glistening in their eyes or on their cheeks, the families gratefully received these gifts. Sister Barbara sometimes received thank you cards from the families. If their loved one died, sometimes the blanket was buried with the patient, sometimes it was used to drape the coffin, and then was kept as a treasured memento by the family. "When we create these gifts, we're not just making an afghan, neckroll pillow, or other item, we're touching lives."