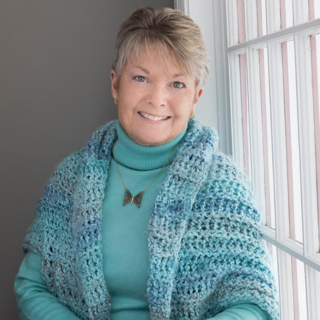 Welcome and thank you for visiting my website. I am Joan Portman, an advocate for finding creative ways to improve other people's lives.
This work is inspired by my experiences working with a group of amazing individuals who combined their creative talents and the gift of their time handmaking items which were given to seriously ill patients to provide comfort. Becoming a hospital patient creates intense feelings of stress, anxiety and vulnerability. Entering a hospital room, which must of necessity, be sterile and equipped with an arsenal of medical equipment, is frightening. What we were able to achieve by implementing the Healing Environments Program was to create a new atmosphere in the hospital rooms, to significantly change not just the look but also the feel of the rooms.
Our crafters created colorfully patterned knit and crocheted afghans and quilts, neckroll pillows to support patients' heads and necks and for those who had lost their hair due to chemotherapy, soft 'hair-loss caps.' These were just a few of the many items made as gifts with love and care by the volunteer crafters. And as the on-site volunteers offered the patients the option of selecting items they found personally appealing, a seemingly small but vital sense of autonomy was returned to them. As they were able to create their 'private sanctuary' of comfort and healing, they expressed their gratitude time and again.
The program I developed and coordinated, was inspired by the time I spent with my Father-in-Love during his nine-month battle with brain cancer which claimed his life in May 2001. I utilized my knowledge and experience as an interior designer and Feng Shui practitioner to select his personal items which I brought and strategically placed in his hospital room. These objects were chosen to provide warmth (a beautiful afghan knit with love by his dear wife), reassurance (his own robe and orthopedic slippers to wear when he could walk in the corridors) and diversion (every get-well card, his Walkman and headphones, favorite music and books). These items were also intended to uplift and energize the space and create his own 'safe haven.'